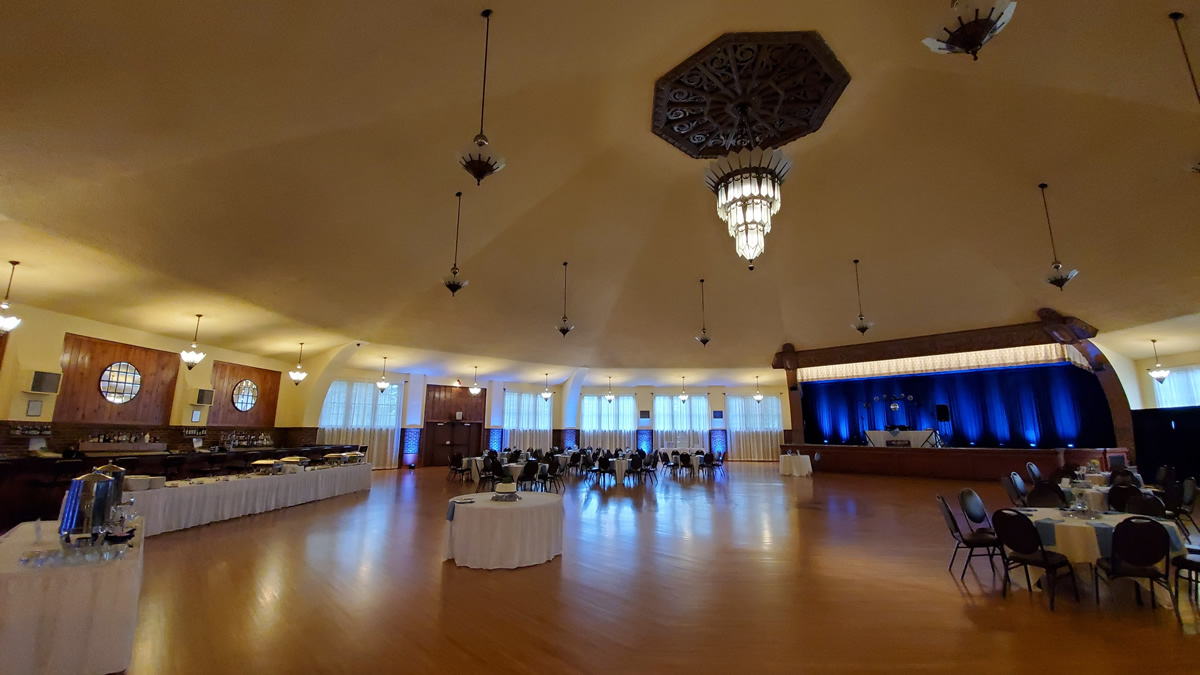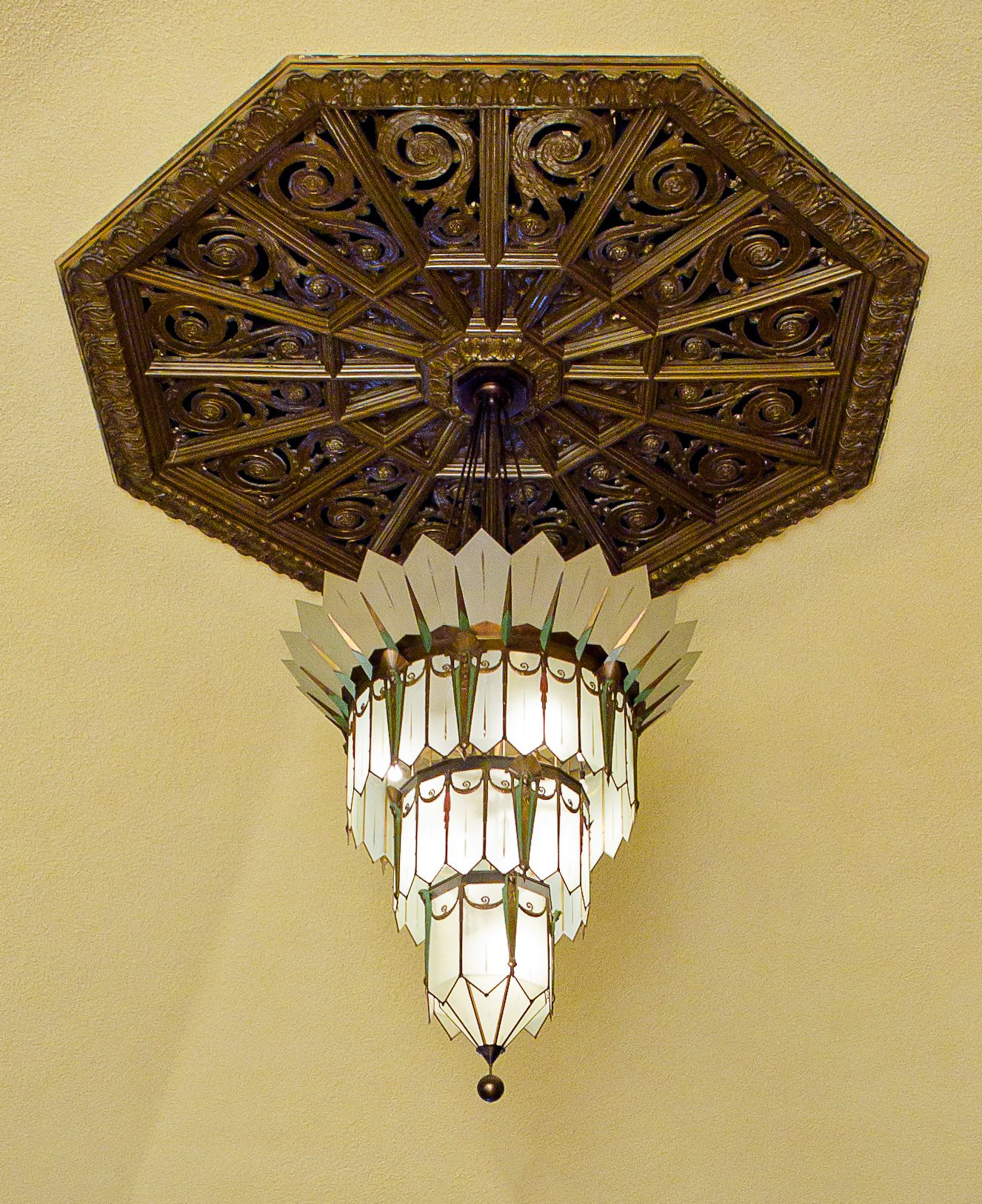 The Chandelier Ballroom's Great Hall is one of the most spectacular event spaces in the state of Wisconsin. Our venue is listed on both the State and National Register of Historic Places.
Built in 1928, its unique architecture boasts an unobstructed, octagonal ballroom rising to a grand peak at the center, featuring a marvelous one ton, Art Deco German chandelier surrounded by 26 smaller chandeliers.
The floor is natural maple and the room contains two large, fully stocked bars and a theatrical stage rising four feet above the ballroom floor. The Chandelier Ballroom is ADA accessible with everything located on one level.
Groups of 150-500 can be arranged in a fashion that allows buffet tables to be centered in the middle of the hall. This area can later be used as a dance floor for the evening's entertainment. Click here to view a layout of the Chandelier Ballroom.
Sunday-Thursday $2,200

Friday $3,200

Saturday $4,200*  

*OFF-SEASON SPECIAL: 50% OFF SATURDAY RENTAL RATES JANUARY-MARCH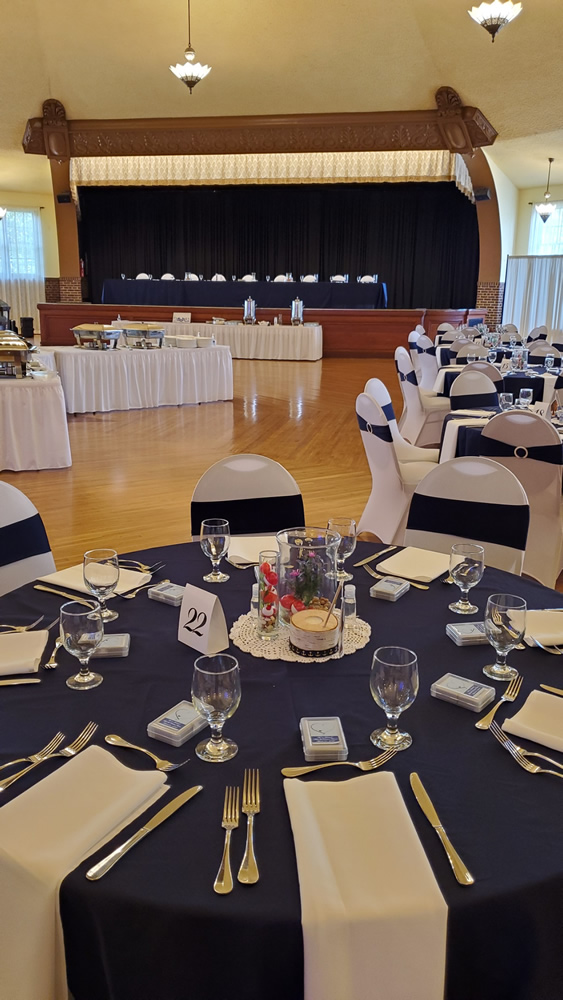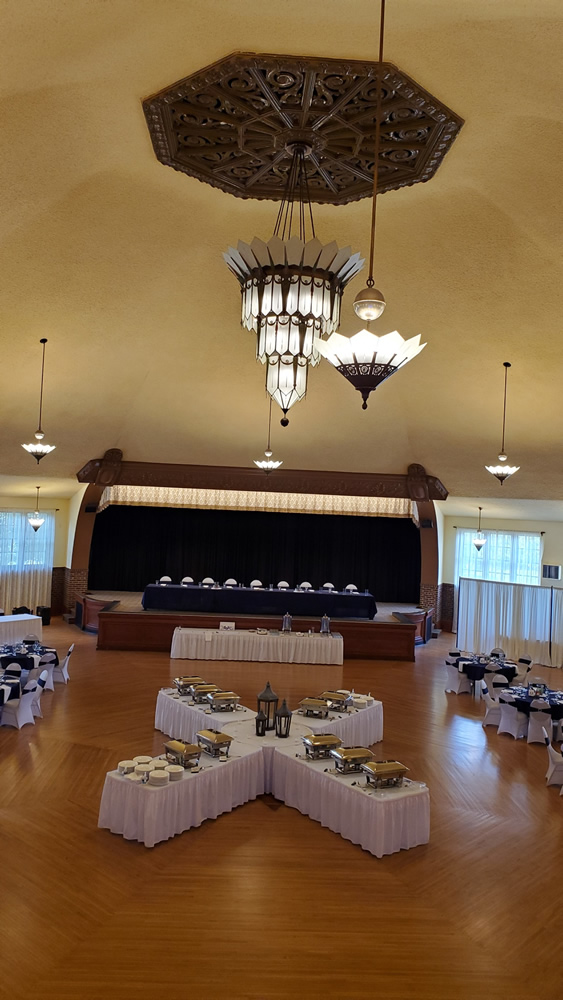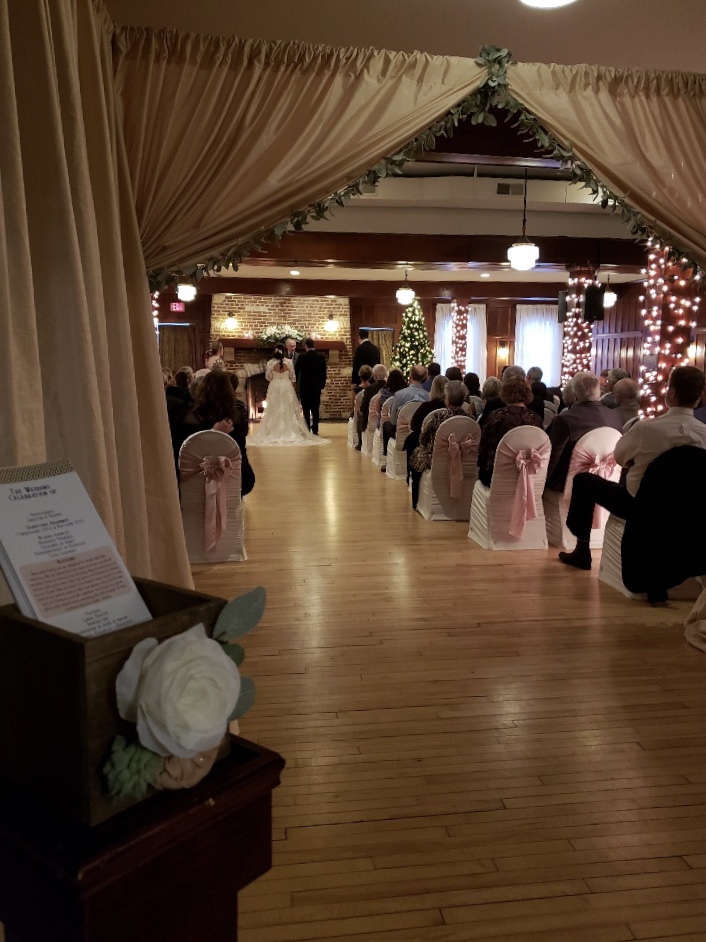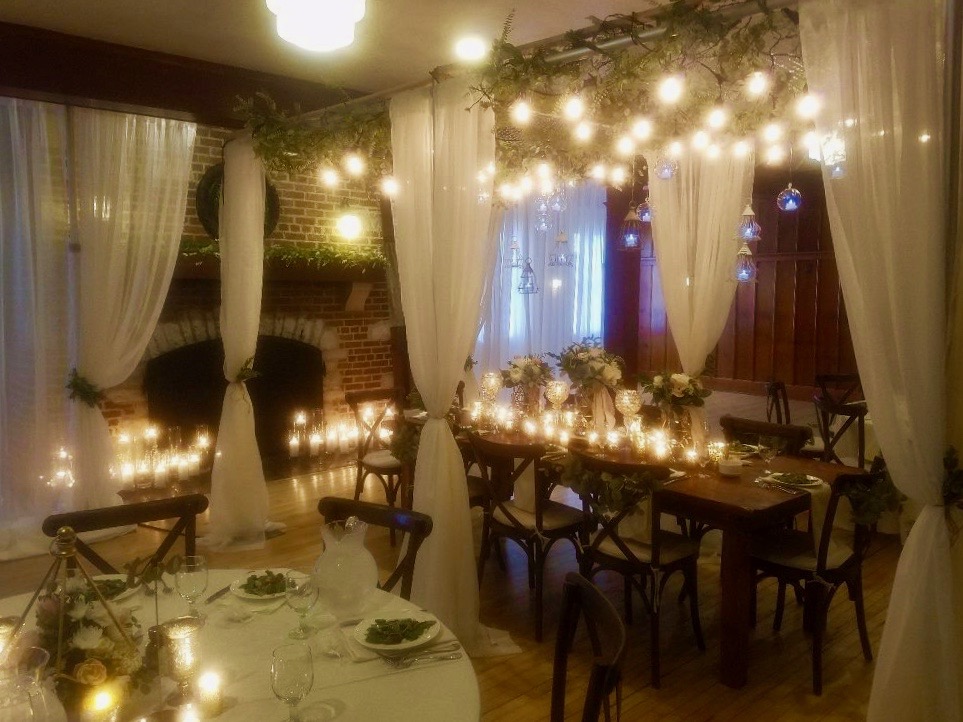 The Fireside Room is a smaller, more intimate room featuring beautiful wood-paneled walls, a natural maple floor, a large, fully stocked bar and a charming stone fireplace.
Seating capacity for the Fireside Room is up to 100 for wedding receptions and up to 200 for ceremonies. This room is perfect for smaller receptions, private gatherings, holiday parties, or business meetings.
It can also be used in conjunction with the Great Hall for additional room for your guests. If you rent the Fireside Room in addition to the Great Hall to ensure you have the entire facility, we discount the price of the Fireside Room to $450.00.
​Sunday-Thursday $695
Friday & Saturday $995
500 chairs

(50) 60″ round tables. We typically seat 8 guests per table; but you can also seat 6 or 10 depending on the size of your group

(25) 36″ x 96″ rectangular tables

Basic sound system

Projection screen with projector & DVD player

Podium with cordless microphone

Free parking ~ 400 Spaces

Basic setup of the facility. If the room is available the day before your event, you are allowed to decorate from 9:00am-4:00pm. If another event is booked the day before your event, the venue will open no earlier than 9:00am the day of your event to setup and decorate.

Cleaning of the facility before and after the event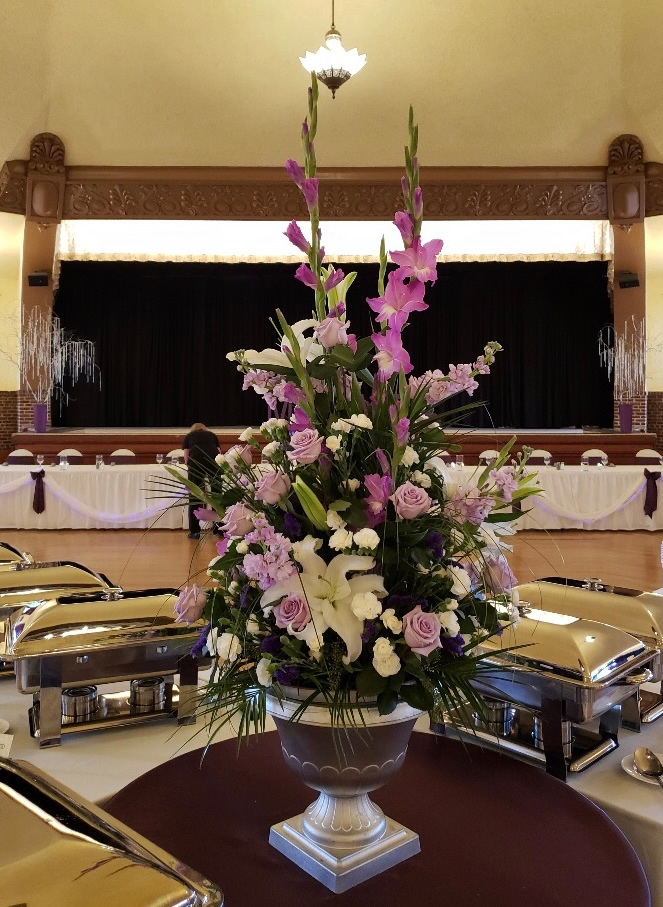 The Chandelier Ballroom offers linen service to all of its guests. Our staff ensures that the room is setup, linened and skirted when you arrive to decorate.
Our staff will also remove them for you at the end of the evening. Our fee is $9.00 per linen (90"x 90" black, white or ivory square). We also offer white table skirting at a package price of $250.00.
This package includes skirting of all display tables such as the head table, cake table, greeter and placecard table, gift table, buffet table and hors d'oeuvre table.
Skirting gives the room an elegant, polished look and adds a nice touch to the facility. Linen napkin service is also available. Our charge is $1.50 each and we offer an array of different colors.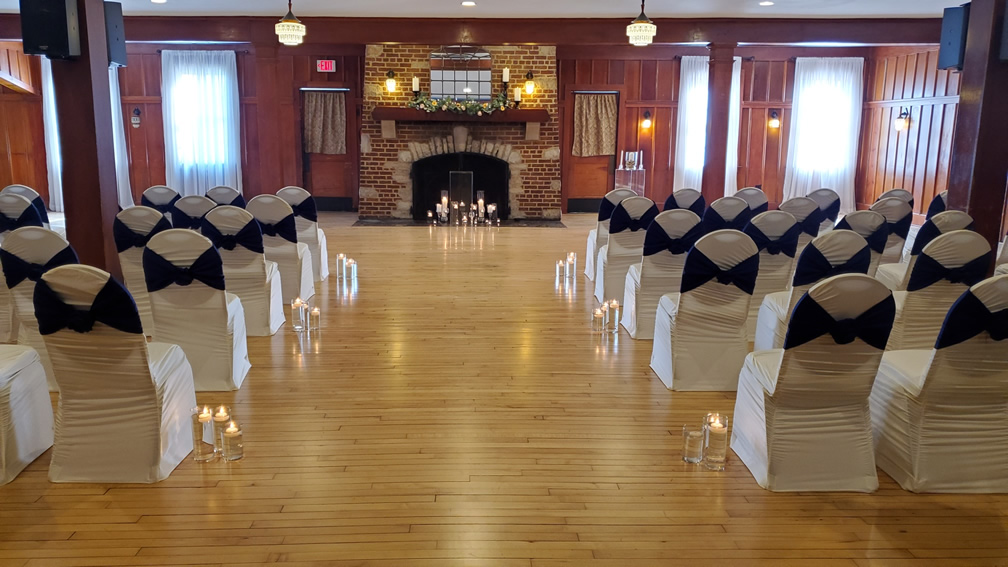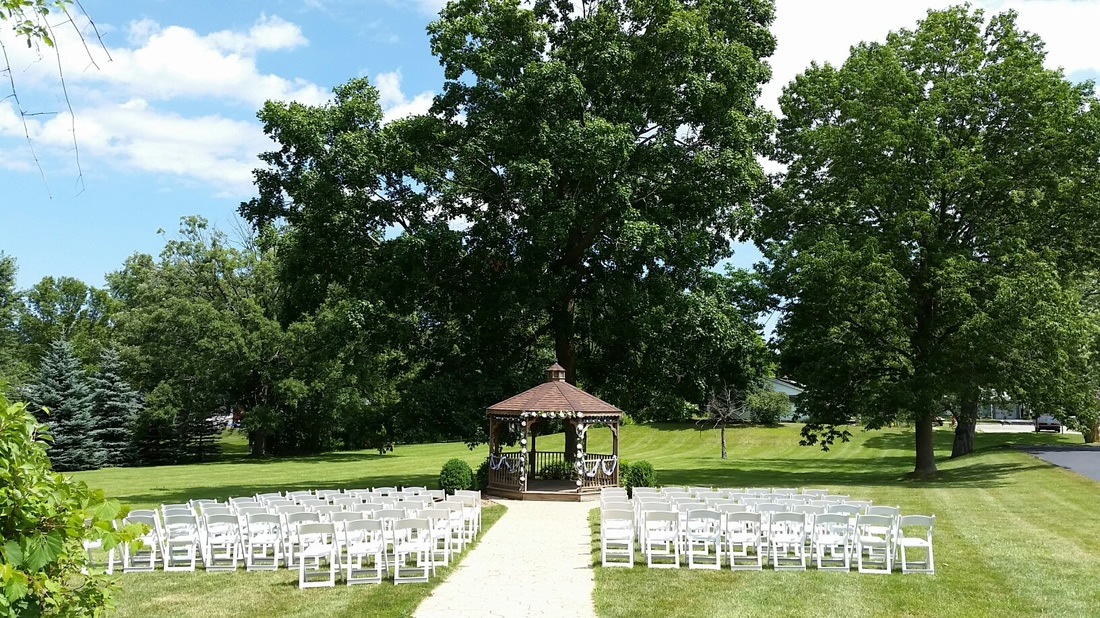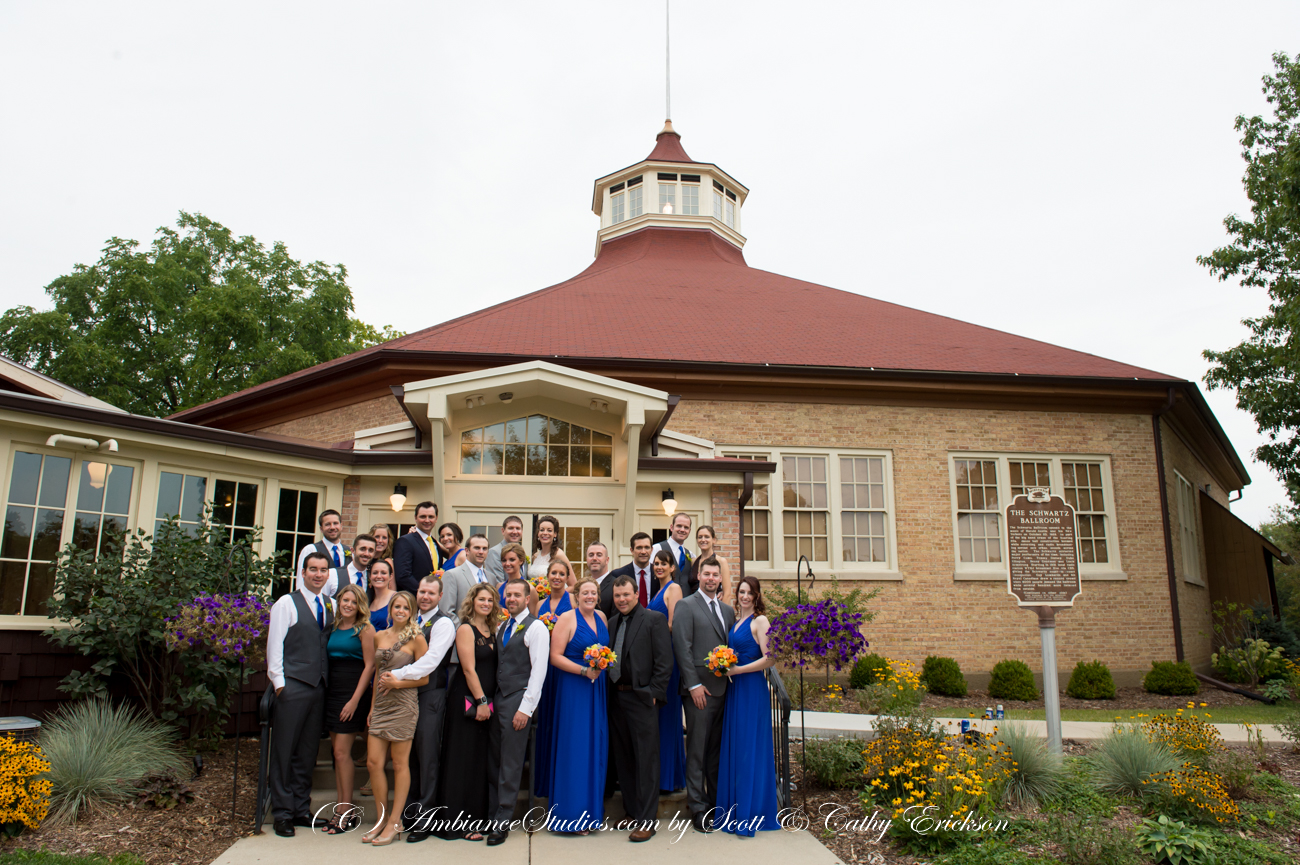 Many couples are opting to book only one venue to hold both the ceremony and reception.
This limits the amount of travel for their guests and can also allow for a more flexible time schedule. The Chandelier Ballroom has the capability to hold ceremonies either outside, in the Fireside Room or the Great Hall.
Wedding parties will often have photos taken in front of our fireplace or outside on the Love Seat patio area. Our ceremony charge is $350.00.
This charge covers a one hour rehearsal time along with the additional staff and setup time related to the event.
Please note: The Chandelier Ballroom does not allow our chairs to be setup outside. If you decide to have an outdoor ceremony you will be required to rent chairs.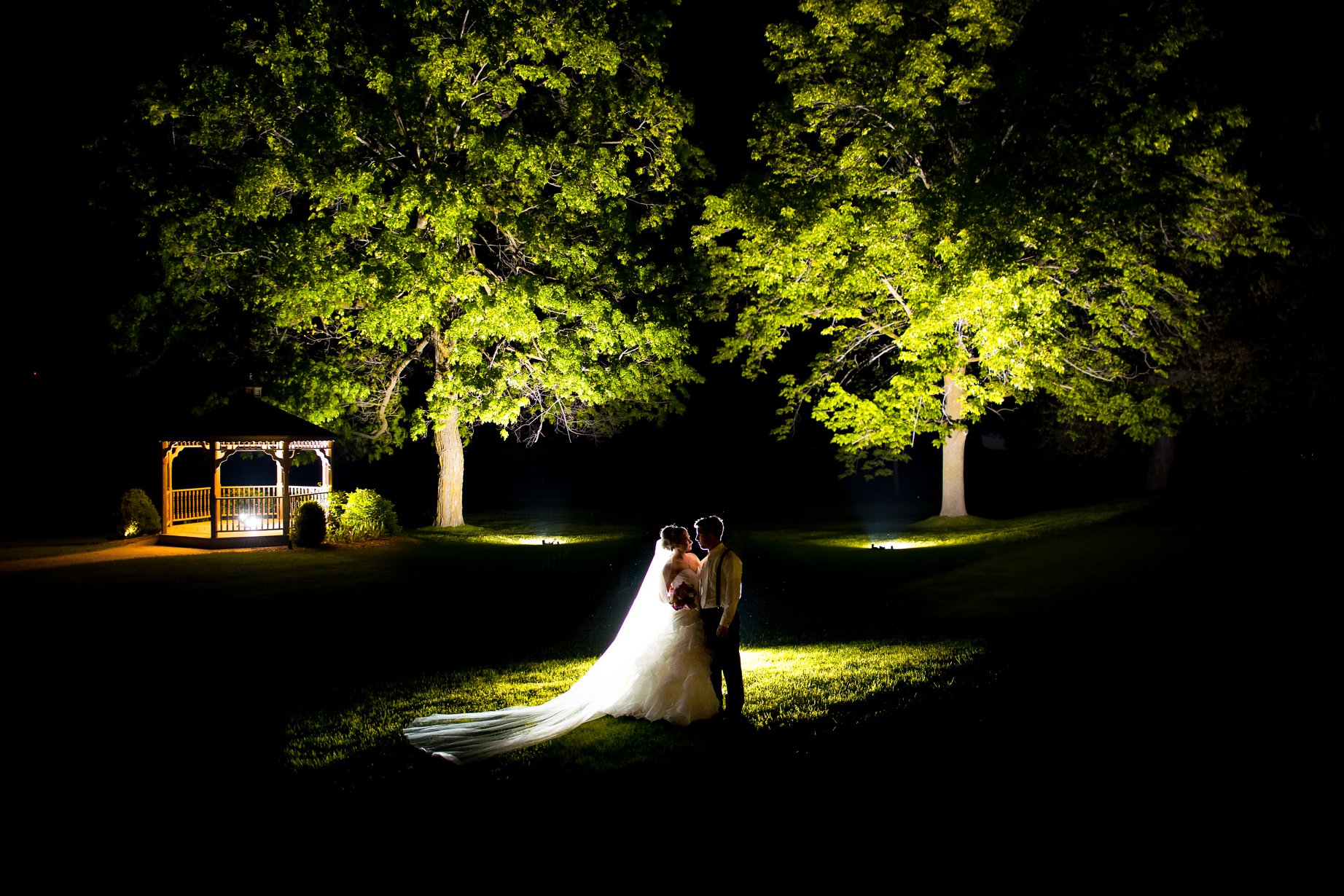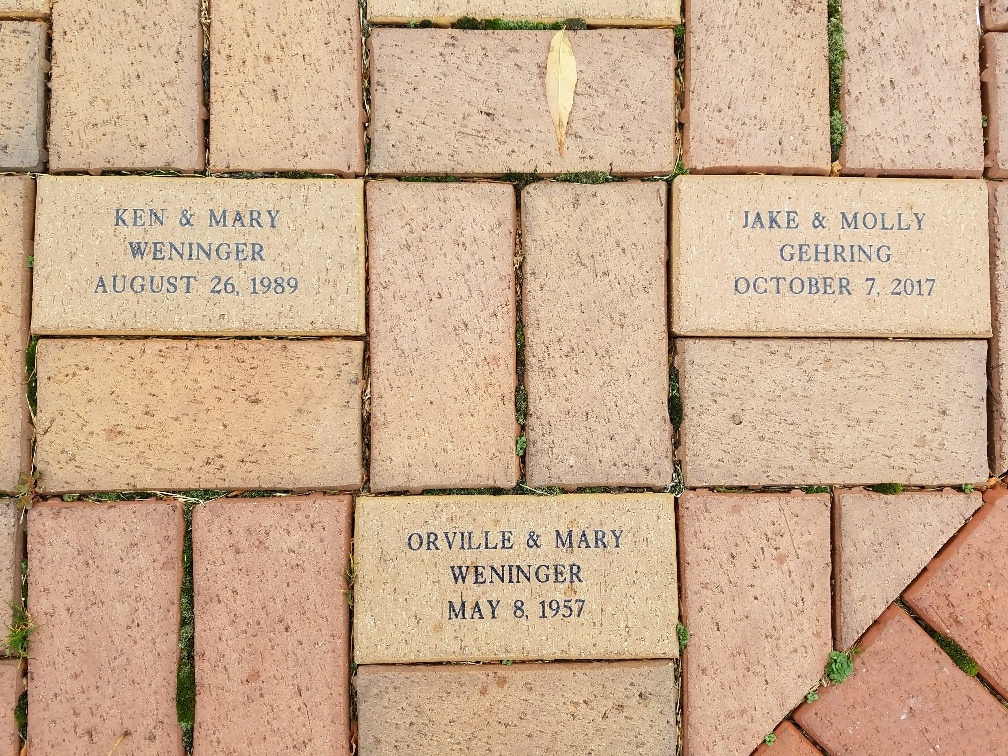 The 4″x 8″ bricks are $150.00 each and include the name of the couple and their wedding date. Please contact us to order one for yourself or as the perfect wedding gift!
Late Night Transportation
Our venue offers a Transportation Service for those guests who would like to leave their vehicles in our parking lot overnight and enjoy a safe ride home.
The service is provided by a local transportation company and offers an 18 passenger vehicle for a two hour window (10:30pm-12:30pm or 11:00pm-1:00am.)
The vehicle travels within a 15 mile radius of Hartford to ensure as many guests are taken care of as possible.
The price of this service is $395.00 and can be decided on at our final meeting one month prior to the date of your scheduled event.
Would you like to have your wedding day engraved in stone? The Chandelier Ballroom is pleased to announce our 'LOVE SEAT' project!
We work with a company that engraves bricks and created an area outside perfect for photographs which will recognize the many couples who have met or been married when the facility was named The Schwartz, Zivko's, Legendz, or Chandelier Ballroom! 
We have compiled a list of vendors that may be helpful to you in the wedding planning process. You are not required to utilize any of these vendors, they are just friendly suggestions of businesses we have worked with throughout the years offering their services at various price points.
A tentative hold may be placed on any date, and on any room, that is not already booked free of charge. Please call or email the Ballroom with your request. The tentative hold is in no way reserving the date for your event. A tentative hold is good for ten (10) days from the date of the request.
In the event that another customer should have interest in the date, you will be notified and given three (3) days to sign a rental agreement and make a deposit for the date. If this is not done within three (3) days, the date will be released. If you have any questions or concerns about our Hold Policy, please contact us.
To secure a date, one half (1/2) of the total hall rental charge is due along with a signed contract. The remainder of the rental charge along with payment of the catering invoice is due 2 weeks prior to the date of the event. If you are paying with a credit card, a 3% processing fee will be added to the total amount due.
The hall deposit is non-refundable or transferable and will be retained by the Ballroom if the customer cancels the event for any reason.
Electrical Capabilities for Entertainment Providers
One (1) 200 ampere fusible disconnect switch 120/208 Volts; Load lugs only
One (1) 100 ampere fusible disconnect switch 120/208 Volts; Load lugs only
One (1) 50 ampere Nema 10-50R power receptacle and matching cord cap
Four (4) 20 ampere 120 Volt duplex receptacles